The residential real estate market for the Greater Woodstock Vermont market area continued to be very strong in the first three quarters of 2019 – still on the path to be the best year-to-date in well over a decade. Specifically, 170 homes sold in the market area during Q1-Q3 2019 versus 161 during the same period of 2018. The town of Woodstock saw a record-breaking fifty-five (55) sales, up 67% compared to 2018, surpassing the high for the market set in 2017. West Windsor also saw a record-breaking high of twenty-four (24) sales during the period, up 33% compared to any other year on record.
While Woodstock and West Windsor were up significantly, the towns of Barnard, Pomfret, Bridgewater, Reading, and Hartland all saw a decreased number of sales compared to 2018. Of particular note is a shift in supply that occurred sometime between the first half and third quarter of this year, with October 1 marking a reversal in the trend of decreased inventory that has been observed over the past several years. In five (5) of the seven (7) towns, inventory was up on October 1 of this year compared to the same date in 2018. In the town of Woodstock, this increase was strongest in homes listed for under $500,000, up 80% on October 1 of this year with thirty-four (34) homes, compared to just nineteen (19) on the same date last year. Hartland stands out as a major outlier to this reversal. As a whole, inventory is down 31% compared to 2018, and for homes listed for under $500,000, inventory is down a staggering 52%. Hartland is most likely benefiting from its unique proximity to Hanover and Lebanon, attracting people who are working in those areas but either don't want to pay higher prices in Hanover and Norwich or simply can't find anything in Lebanon and Hartford due to incredibly low inventory and intense buyer demand.
In regard to luxury sales of homes that sold for more than $1 million, there were six (6) sales during Q1-Q3 this year, down from eight (8) sales during the same period of 2018. Inventory of homes listed for more than $1 million decreased 15%, from forty-eight (48) listed on October 1, 2018 to forty-one (41) on the same date this year. It is also worth noting that just after this reporting period (on October 3), Snyder Donegan sold/closed a luxury property in Woodstock village for $1,385,000 (full price sale), and have put two other luxury properties under agreement, listed at $3,800,000 and $1,850,000, respectively. Showings of our luxury properties has been quite strong in October, so overall we project that 2019 will be another solid year for luxury sales in the Hanover-Woodstock market area.
The Greater Hanover-Lebanon market area was also strong in Q1-Q3 2019. The market area saw 265 sales of single-family homes compared to 280 during the same period of last year. The number of sales in nearly all of the market towns were flat compared to last year with the exception being Norwich, which was down 31% with twenty-five (25) sales this year compared to thirty-six (36) in the same period in 2018. We believe this decrease in Norwich is due to declined inventory at the onset of and throughout this year.
While overall unit volume of homes sold remains solid, it is worth noting that pricing in the market remains very strong. For example, 38% of all sales in the Hanover-Lebanon market area sold/closed at or above list price. And overall, the average negotiating discount – the % difference between a home's list price and sale price – was just 2.65% for Q1-Q3 of this year, compared to 3.65% for 2018 as a whole. Prices continue to rise and are now essentially at or above pre-recession peak price levels in most towns: For example, in Lebanon, the average price of homes sold reached $290,000, essentially matching the record of $292,000 in 2007.
Similar to the Greater Woodstock market area, inventory increased slightly in each town within Greater Hanover-Lebanon market area, with an increase observed in Hartford (18%), Lyme (25%), Norwich (6%), Lebanon (5%), and Hanover (3%).
In regard to luxury sales, the Greater Hanover-Lebanon market area saw eleven (11) sales of homes that sold/closed for $1 million or more, down slightly compared to the same period in 2018, with thirteen (13) sales.
Click on any of the following towns to view market analysis for the first half of 2019 and historical statistics.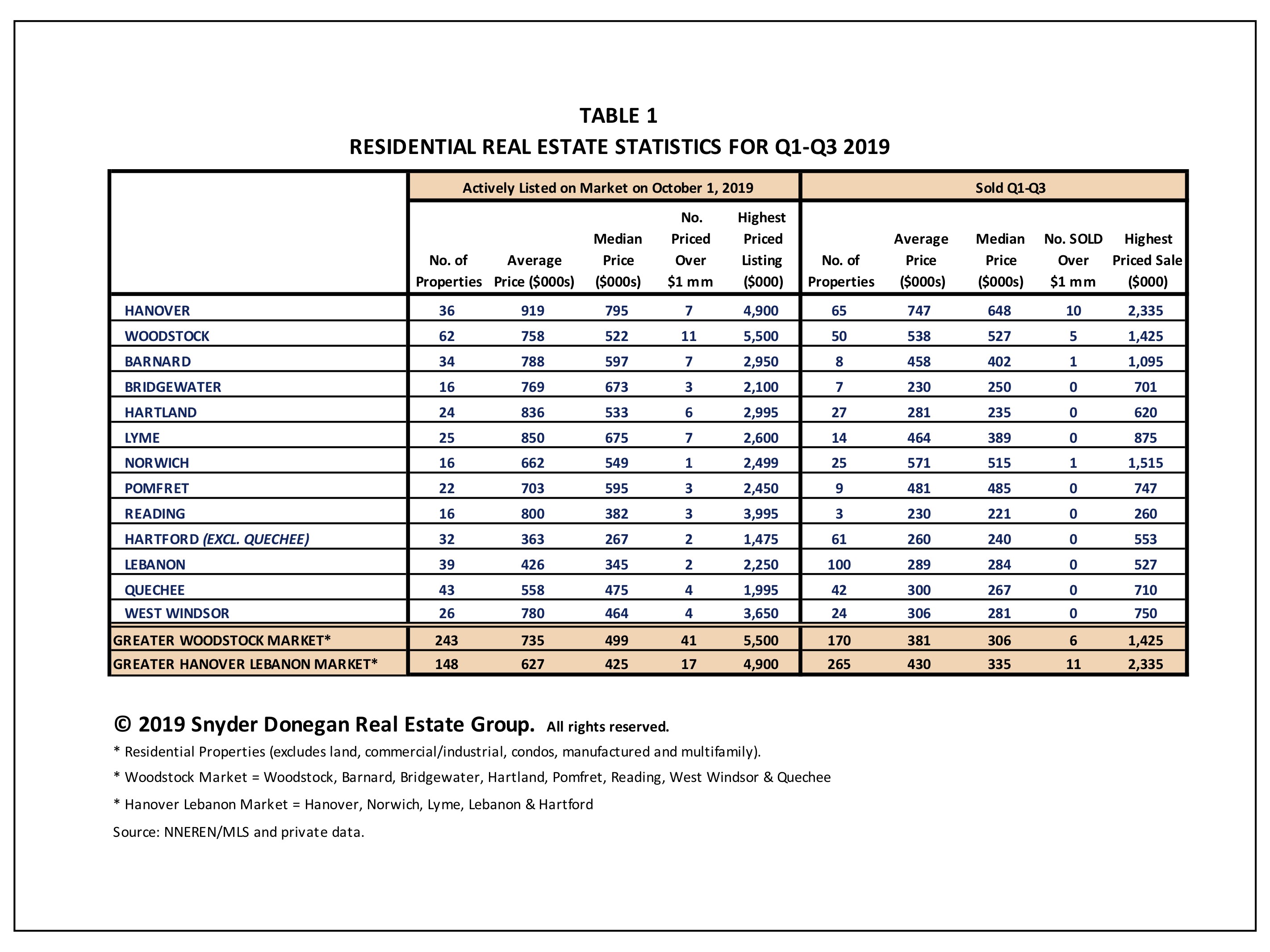 Greater Woodstock Market Area
Greater Hanover Lebanon Market Area