LYME MARKET AREA
The Lyme, New Hampshire real estate market experienced its most successful year in history in 2020, setting records in every major statistical category in regard to sales including total transactions, average price, total dollar volume, average negotiating discount– percent difference between a home's list price and sale price– and sales of homes over $1 million.
In total, the market saw thirty (30) sales of single-family homes, up from twenty (20) in 2019 and breaking its previous record of twenty-six (26) set in 2005 and 2006. This resulted in a total of $21,098,384 in dollar volume, a new record for the market by over $7 million. (Of note, Snyder Donegan represented buyers, sellers or both for $10 million (46%) of that total volume.) The average price of sold/closed homes rose to $703,279, a 30% increase from 2019, while buyers paid closer to sellers' asking prices than ever before as reflected in the average negotiating discount hitting an all-time low of 2.30%. In fact, buyers paid either at or above asking price in eleven (11) of the 30 transactions on the year. On top of which, homes spent just 126 days on the market prior to sale, down from a post-recession high of 252 in 2012. When taken altogether, each of these metrics clearly underscore the motivation of and high demand from buyers in the extraordinarily busy 2020 market.
Though Lyme is not historically a town with significantly high numbers of sales year-to-year compared to some neighboring markets, properties that do sell generally tend to be of higher value. This year was no exception, as a record total of six (6) homes over $1 million sold in Lyme, the highest priced of which (42 Claflin Lane - $2.757) was represented on the buying side by Snyder Donegan.
Increased sales, however, have significantly depleted available inventory in the market, as there were just two (2) single-family homes actively listed on the market as of December 31, down 87% from the same date in 2019 to its lowest mark since our firm began recording the statistic. Though we remain optimistic about the 2021 market, Lyme will need a considerable infusion of listings to satisfy what we expect to be continued strong buyer demand.
GREATER HANOVER-LEBANON MARKET AREA
The Greater Hanover-Lebanon market area (Hanover, Hartford, Lebanon, Lyme, Norwich, Plainfield, Strafford) also had a banner year in 2020 with 439 sales of single-family homes, eclipsing its 2019 total of 338, a 30% increase. Like the Greater Woodstock area, each town in the GHLA either met or exceeded its 2019 figures for total sales, with Hanover, Hartford, and Lyme setting all-time records. In 200 of the 439 sales that transacted over the year, buyers paid either at or above a seller's asking price, with the average price of a home reaching $505,604. Not surprisingly, these record totals have left a vacuum in terms of available inventory, as there were just twenty-eight (28) single family homes actively listed in the entire Greater-Hanover market area on December 31 compared to eighty-four (84) at the same point in 2019.
In regard to luxury sales, the Greater Hanover-Lebanon market area saw thirty-six (36) sales of homes that sold/closed for $1 million or more. Snyder Donegan was pleased to represent the buyers, sellers, or both in the highest priced 2020 individual home sales in Hanover (24 Occom Ridge – $3.1 million) and Lyme (42 Claflin Lane – $2.575 million).
Inventory is now genuinely tight at most price points up to about $1.5 million, and prices clearly rose, particularly in moderate price points and in properties closer to well-known towns like Woodstock and Hanover. Because of this, we are starting to see buyers move both outwards in location from traditional "centers" and upwards in price. And more rural, even "remote" properties have special appeal to those seeking more permanent safety from the COVID storm or a simpler way of life.
LYME FY 2020 BY THE NUMBERS
30 SOLD single-family homes

Average Price: $703,279
Median Price: $538,750
Total Volume: $21,098,384
Average Negotiating Discount: 2.30%
Average Days on the Market: 126
4 ACTIVE UNDER CONTRACT/PENDING single-family homes

Average Price: $522,475
Average Price: $560,000
Average Days on the Market: 140
2 ACTIVELY LISTED single-family homes

Average Price: $1,292,500
Median Price: $1,292,500
Average Days on the Market: 240
Charts illustrating portions of the above information can be found below, followed by a list of the 30 properties that closed during FY 2020.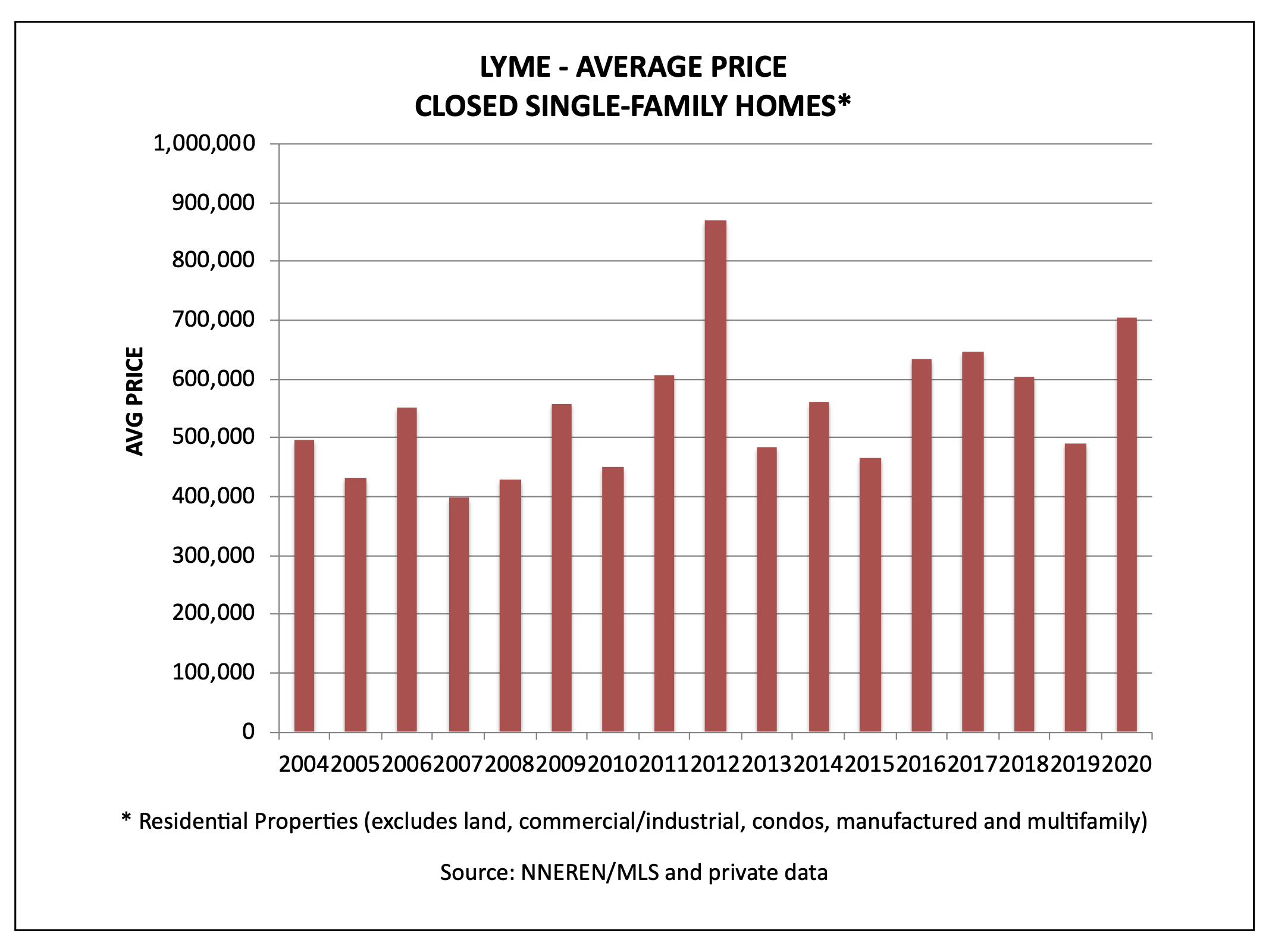 A list of all 30 properties that sold/closed in Lyme during FY 2020 is below.
| | |
| --- | --- |
| 14 Baker Hill Road, Lyme, NH | $163,900 |
| 114 Post Pond Lane, Lyme, NH | $175,000 |
| 2 Maple Lane, Lyme, NH | $190,000 |
| 301 Orford Road, Lyme, NH | $240,500 |
| 368 Orford Road, Lyme, NH | $245,000 |
| 30 Shoestrap Road, Lyme, NH | $280,000 |
| 218 Dartmouth College Highway, Lyme, NH | $299,000 |
| 102 Dartmouth College Highway, Lyme, NH | $303,000 |
| 644 River Road, Lyme, NH | $329,900 |
| 3 Maple Lane, Lyme, NH | $349,000 |
| 48 N Thetford Road, Lyme, NH | $382,000 |
| 176 Dorchester Road, Lyme, NH | $450,000 |
| 83 Franklin Hill Road, Lyme, NH | $500,000 |
| 18 Canaan Ledge Lane, Lyme, NH | $525,000 |
| 132 Whipple Hill Road, Lyme, NH | $527,500 |
| 265 Dorchester Road, Lyme, NH | $550,000 |
| 347 Baker Hill, Lyme, NH | $606,670 |
| 11 Cutting Hill Lane, Lyme, NH | $608,000 |
| 61 Post Pond Lane, Lyme, NH | $649,500 |
| 15 Turner Lane, Lyme, NH | $675,700 |
| 376 River Road, Lyme, NH | $695,000 |
| 14 Franklin Hill Road, Lyme, NH | $730,000 |
| 26 Acorn Hill Road, Lyme, NH | $735,000 |
| 16 Isaac Perkins Road, Lyme, NH | $792,500 |
| 16 Clover Mill Lane, Lyme, NH | $1,188,714 |
| 50 Preston Road, Lyme, NH | $1,325,000 |
| 8 Tavern Lane, Lyme, NH | $1,500,000 |
| 28 Clover Mill Lane, Lyme, NH | $1,557,500 |
| 711 River Road, Lyme, NH | $1,950,000 |
| 42 Claflin Lane, Lyme, NH | $2,575,000 |