BRIDGEWATER MARKET AREA
The Bridgewater, Vermont real estate market had a record year in 2020, finishing with eighteen (18) sales of single-family homes, up from eight (8) in 2019 to its highest mark in history. The average selling price of those homes jumped to $547,944, up markedly from $267,063 in 2019. As of this writing there were an additional five (5) properties active under contract or pending and likely to close in the coming months.
Snyder Donegan was pleased to represent the buyer and seller in the highest priced individual home sale in Bridgewater in 2020, 403 North Bridgewater Road at $1.125 million.
On average, homes spent a record-low 4.03 months on the market prior to sale in 2020, down 56% from 2019. Additionally, the average negotiating discount– percent difference between a home's list price and sale price– was also down roughly 50% from last year to an all-time low of 3.02%. Both of these metrics underscore the extraordinarily high motivation level of buyers in the 2020 market.
The flip side of that coin, however, is that with record sales tend to come record lows in regard to inventory, as we're now seeing in Bridgewater. Similar to other towns in the Greater Woodstock area, inventory in Bridgewater is now at its lowest point since Snyder Donegan began compiling this data point in 2014. As of December 31, there were just five (5) homes actively listed on the market, down from eleven (11) in 2019. While we remain optimistic about sales in 2021, Bridgewater will likely require an infusion of new listings to meet continued high demand in the area.
GREATER WOODSTOCK MARKET AREA
In total, 391 single-family homes sold in 2020 in the Greater Woodstock Vermont market area (Barnard, Bridgewater, Hartland, Plymouth, Pomfret, Quechee, Reading, West Windsor, Woodstock) up 62% from 242 in 2019. In fact, not only did every single town in the Greater Woodstock market experience an increase in total $ sales for the year, but nearly every town closed an all-time record number of homes. Of the 391 homes sold, buyers paid at or above a seller's asking price in 118 of the transactions, with the average price hitting $558,347 (up from roughly $424,000 in 2019). Because of this boom, it stands to reason that inventory in the market is now significantly depleted, with just sixty-nine (69) single-family homes on the market at the close of the year compared to 179 at the same point in 2019.
As with the rest of the market, buying activity in the luxury market in the Greater Woodstock market area was very strong in 2020, with thirty-eight (38) sales of homes over $1 million sold/closed compared to thirteen (13) in all of 2019. Snyder Donegan was pleased to represent the buyers, sellers, or both in the highest priced 2020 individual home sales in Barnard (3147 Mount Hunger Road – $2.55 million), Bridgewater (403 North Bridgewater Road – $1.125 million), Pomfret (3429 Cloudland Road/"Sleepy Hollow Farm" – $2.2 million), and Plymouth (303 Frog City Road – $1.15 million).
Inventory is now genuinely tight at most price points up to about $1.5 million, and prices clearly rose, particularly in moderate price points and in properties closer to well-known towns like Woodstock and Hanover. Because of this, we are starting to see buyers move both outwards in location from traditional "centers" and upwards in price. And more rural, even "remote" properties have special appeal to those seeking more permanent safety from the COVID storm or a simpler way of life.
BRIDGEWATER FY 2020 BY THE NUMBERS
18 SOLD single-family homes

Average Price: $547,944
Median Price: $474,500
Total Volume: $9,863,000
Average Negotiating Discount: 3.02%
Average Days on the Market: 121
5 ACTIVE UNDER CONTRACT/PENDING single-family homes

Average Price: $284,400
Median Price: $298,000
Days on the Market: 38
5 ACTIVELY LISTED single-family homes

Average Price: $831,400
Median Price: $833,200
Average Days on the Market: 295
Charts illustrating portions of the above Bridgewater information can be found below, followed by a complete list of all properties that closed during the full year of 2020.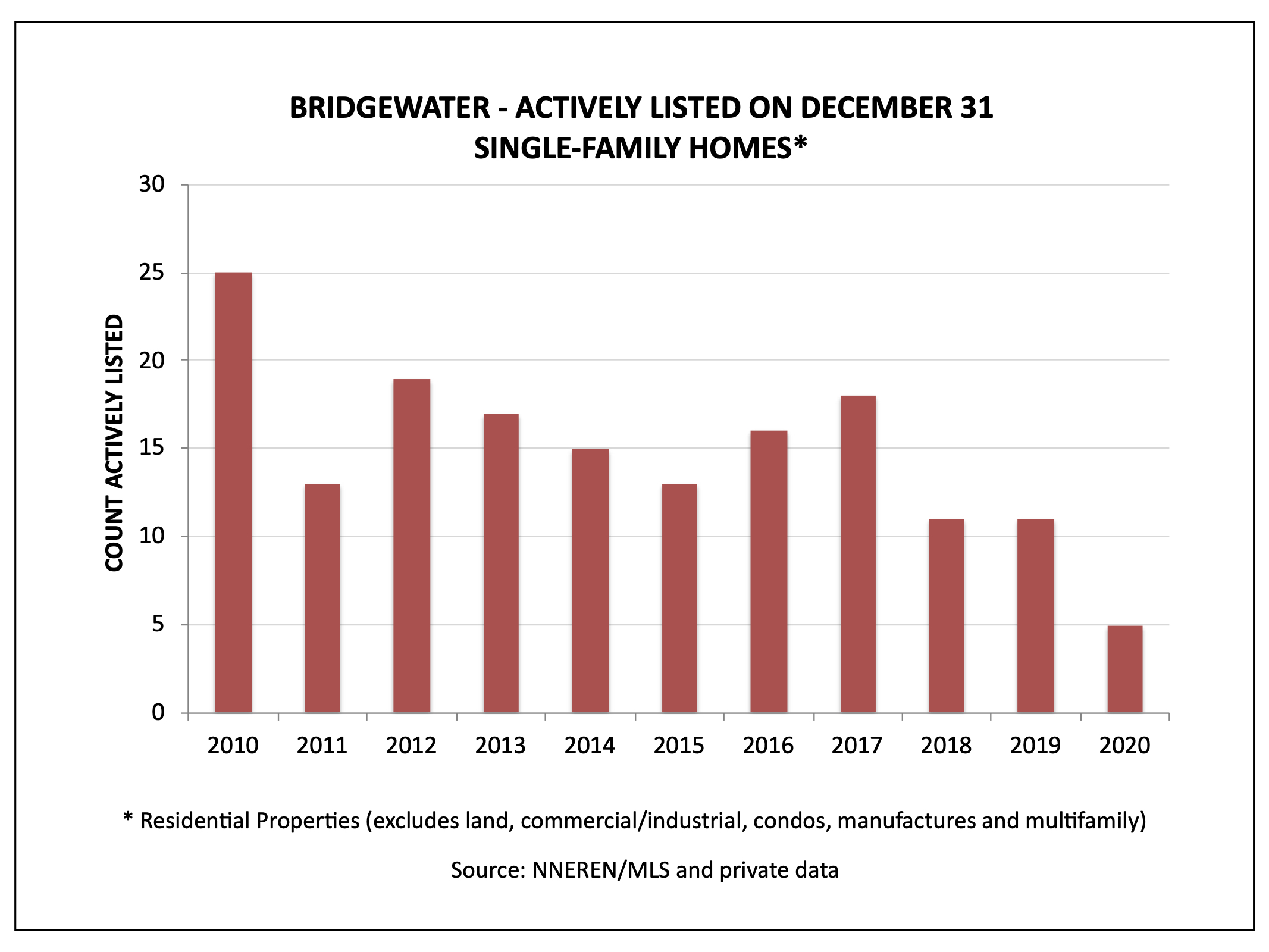 A list of all 18 homes that sold/closed in Bridgewater during FY 2020 is below.
| | |
| --- | --- |
| 6818 US Route 4 Highway, Bridgewater, VT | $132,000 |
| 7383 US Route 4 Road, Bridgewater, VT | $255,000 |
| 7429 US Route 4, Bridgewater, VT | $320,000 |
| 6099 Us Route 4, Bridgewater, VT | $332,000 |
| 151 North Bridgewater Road, Bridgewater, VT | $355,000 |
| 1810 Route 100A, Bridgewater, VT | $378,000 |
| 387 Old Bridgewater Hill Road, Bridgewater, VT | $400,000 |
| 629 North Bridgewater Road, Bridgewater, VT | $450,000 |
| 1360 Bridgewater Hill Road, Bridgewater, VT | $459,000 |
| 194 Gold Coast Road, Bridgewater, VT | $490,000 |
| 2765 Bridgewater Hill Road, Bridgewater, VT | $525,000 |
| 220 Goldcoast Road, Bridgewater, VT | $589,000 |
| 300 Grandma'ams Hill Road, Bridgewater, VT | $643,000 |
| 270 Grandma'ams Hill Road, Bridgewater, VT | $645,000 |
| 1178 Chateauguay Road, Bridgewater, VT | $800,000 |
| 302 Cox District Road, Bridgewater, VT | $865,000 |
| 1687 Gold Coast Road, Bridgewater, VT | $1,100,000 |
| 403 North Bridgewater Road, Bridgewater, VT | $1,125,000 |