SOLD! 441 Spruce Way, Woodstock VT - ($680,000) - We helped some wonderful buyers acquire this beautifully constructed home on 24 acres with lovely views - in Woodstock. The Buyers had owned a small getaway property on ~ 50 acres in Barnard for many years and have attracted other family members to the area - who have purchased property too (on Linden Hill in Woodstock).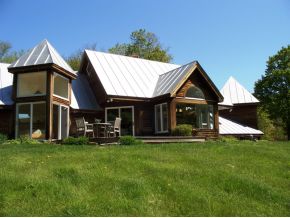 As retirement is approaching for them a few years from now, and knowing what an excellent time it is to BUY real estate, our buyers decided NOW was the time. They researched brokers in town and - lucky for us - they chose John Snyder of Snyder Donegan Real Estate Group as their Buyer Broker.
They figured they could enjoy the house for a few years part-time, then eventually move here full time. They have been looking for several months on three different buying trips to the area, so they were able to get a good feel for the various parts of town, and what houses were available in their price range. Initially they started in the 500s, but decided it was worth it to move up into the 600s and 700s, which brought this home onto the radar screen. It was love at first site, although the wife brought the sister in for a confirmation - the husband purchased the house without ever seeing it until an hour before closing for the walk-through! That is a trusting partner! It was a very smooth transaction - never without a glitch or two (i.e. radon installation required) - but outside the real estate sale, the seller also transferred to the buyer a very nice Kubota lawn tractor and a Ford pickup truck, and in lieu of knick-knacks and furniture, a $1,000 donation was also given by the buyers - at the Seller's suggestion - to one of our favorite local non-profits: The Thompson Senior Center.
This really was the best of why the Woodstock area is such a great place to live!
[John Snyder, Owner/Principal Broker of Snyder Donegan Real Estate Group, was the Buyer Broker for the Purchaser of this property]