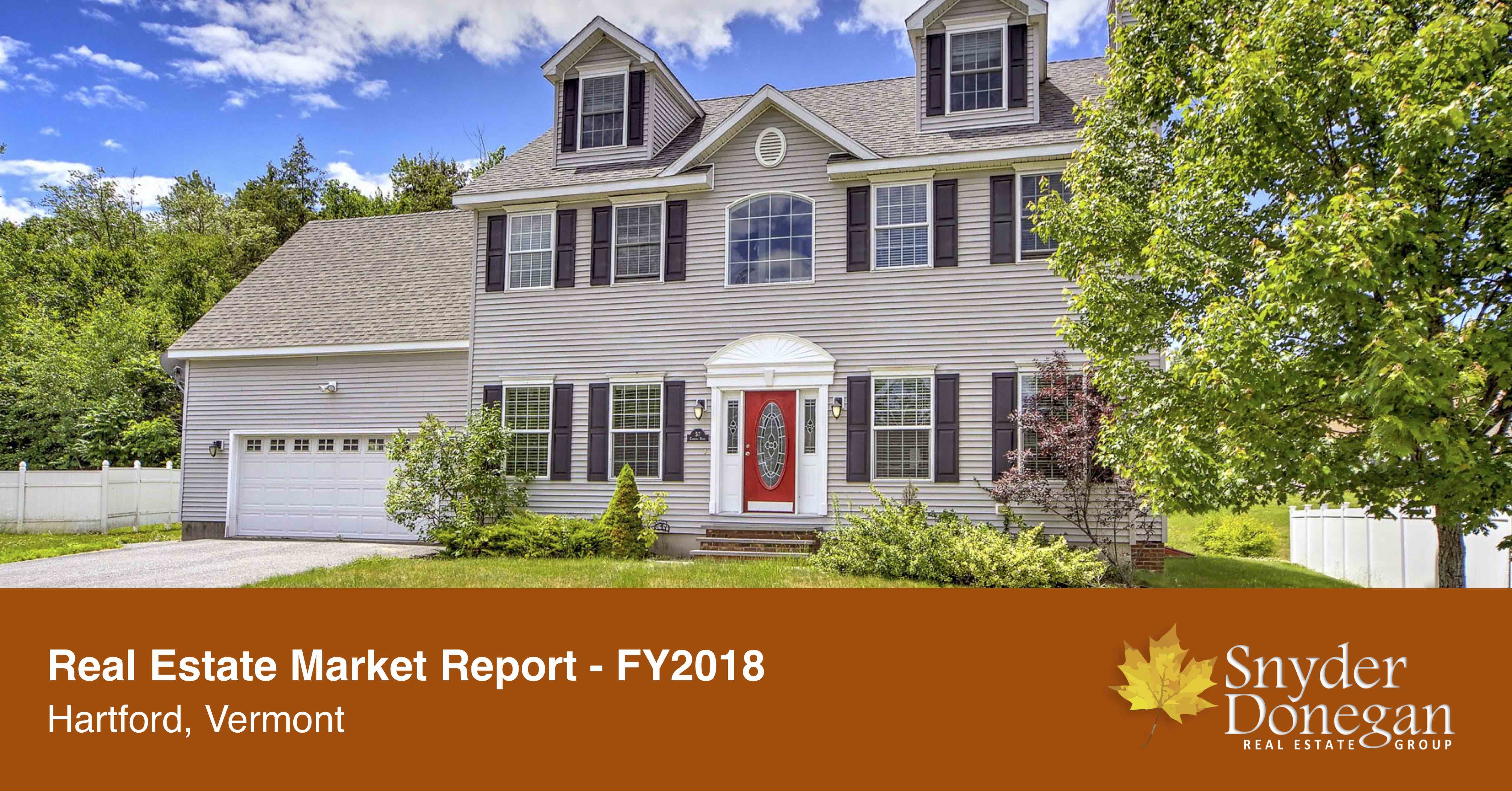 The Hartford Vermont real estate market (excluding the village of Quechee) saw seventy-four (74) sales of single-family homes in 2018, down 17% compared to 2017, which saw eighty-nine (89) sales. While this decrease is significant, we believe it is largely due to limited inventory rather than any reduction in buyer demand.
Houses that sold in 2018 were on the market for an average of just 58 days before selling, down 66% from a high of 171 days in 2012, when the market was flooded with post-recession inventory.
The median price of homes sold in Hartford in 2018 was $232,000, up slightly from 2017, and generally following a rising trend since post-recession lows. The average negotiating discount – the % difference between a home's list price and sale price – was 3.39% in 2018, down from a high of 6.82% in 2009, demonstrating that buyers in 2018 paid closer to the asking price of houses than they have in years prior.
Charts illustrating the above information can be found below, followed by a complete list of all 74 properties that sold in Hartford in 2018.
A list of all 74 properties that sold/closed in Hartford in 2018 is below.
| | |
| --- | --- |
| 16 Crystal Place, Hartford, VT | $40,000 |
| 826 Old River Road, Hartford, VT | $45,000 |
| 42 Gillette Street, Hartford, VT | $49,000 |
| 238 Depot Street, Hartford, VT | $50,000 |
| 41 Ash Street, Hartford, VT | $68,000 |
| 31 Clarina Nichols Lane, Hartford, VT | $70,000 |
| 103 Lower Hyde Park, Hartford, VT | $100,000 |
| 1845 Hartford Avenue, Hartford, VT | $105,000 |
| 198 Hazen Street, Hartford, VT | $105,000 |
| 238 South Street, Hartford, VT | $111,000 |
| 344 Locust Street, Hartford, VT | $118,900 |
| 7 Spruce Street, Hartford, VT | $130,000 |
| 1175 Center Of Town Road, Hartford, VT | $130,000 |
| 273 Connecticut River Road, Hartford, VT | $142,000 |
| 2166 Woodstock Road, Hartford, VT | $144,300 |
| 63 Oak Street, Hartford, VT | $151,000 |
| 42 Gillette Street, Hartford, VT | $161,000 |
| 635 Valley View Road Road, Hartford, VT | $174,900 |
| 408 Christian Street, Hartford, VT | $175,000 |
| 47 RY-Kris Lane, Hartford, VT | $179,000 |
| 102 Norwich Avenue, Hartford, VT | $180,000 |
| 1317 Hartford Avenue, Hartford, VT | $185,000 |
| 351 Norwich Avenue, Hartford, VT | $194,500 |
| 34 Cross Street, Hartford, VT | $195,000 |
| 6 Demers Avenue, Hartford, VT | $195,000 |
| 70 Talbert Street, Hartford, VT | $199,999 |
| 42 Hitchcock Drive, Hartford, VT | $200,000 |
| 86 Victory Circle, Hartford, VT | $205,500 |
| 80 Westfield Drive, Hartford, VT | $207,500 |
| 58 Kriskarli Drive, Hartford, VT | $215,000 |
| 58 Quechee Hartland Road, Hartford, VT | $220,000 |
| 72 Locust Street, Hartford, VT | $225,000 |
| 48 Charles Street, Hartford, VT | $225,000 |
| 94 Oak Street, Hartford, VT | $227,000 |
| 350 Passumpsic Avenue, Hartford, VT | $230,000 |
| 485 Chandler Road, Hartford, VT | $231,000 |
| 38 Albert Street, Hartford, VT | $233,000 |
| 212 Cross Street, Hartford, VT | $233,500 |
| 617 Chandler Road, Hartford, VT | $234,900 |
| 2514 Quechee Main Street, Hartford, VT | $235,000 |
| 113 Aster Drive, Hartford, VT | $239,900 |
| 730 Colonial Drive, Hartford, VT | $240,500 |
| 127 Stonecrest Avenue, Hartford, VT | $242,000 |
| 107 Westfield Drive, Hartford, VT | $248,500 |
| 148 Kings Highway, Hartford, VT | $249,000 |
| 610 Sykes Mountain Avenue, Hartford, VT | $249,900 |
| 24 Third Avenue, Hartford, VT | $255,000 |
| 440 Kings Highway, Hartford, VT | $259,900 |
| 474 Colonial Drive, Hartford, VT | $262,500 |
| 109 Longview Lane, Hartford, VT | $263,000 |
| 944 Center of Town Road, Hartford, VT | $263,000 |
| 160 Barrister Drive, Hartford, VT | $265,000 |
| 175 Bliss Road, Hartford, VT | $265,400 |
| 239 School Street, Hartford, VT | $269,900 |
| 55 Jennifer Lane, Hartford, VT | $275,000 |
| 40 Allison Run, Hartford, VT | $275,000 |
| 83 Ridge View Road, Hartford, VT | $295,000 |
| 27 Ash Street, Hartford, VT | $298,000 |
| 136 Wildlife Road, Hartford, VT | $303,000 |
| 211 Wood Road, Hartford, VT | $310,000 |
| 184 Ravenswood Terrace, Hartford, VT | $310,000 |
| 200 Butternut Road, Hartford, VT | $312,000 |
| 43 Pullman Lane, Hartford, VT | $331,000 |
| 57 Conifer Road, Hartford, VT | $335,000 |
| 561 Neal Road, Hartford, VT | $337,000 |
| 345 Colonial Drive, Hartford, VT | $344,000 |
| 230 Cross Street, Hartford, VT | $350,000 |
| 155 Madison Avenue, Hartford, VT | $355,000 |
| 139 Jericho Street, Hartford, VT | $366,200 |
| 265 Bliss Road, Hartford, VT | $375,000 |
| 160 Liberty Lane, Hartford, VT | $390,000 |
| 527 Neal Road, Hartford, VT | $506,000 |
| 899 Bliss Road, Hartford, VT | $722,500 |